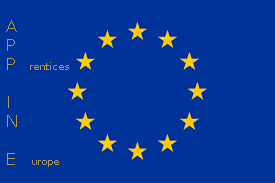 APP IN E
is:
APP
rentices
IN
E
urope

We at

appine

put together
1.1 apprentices and skilled workers, who have JUST finished their apprenticeship

as well as
1.2 teachers, trainers …... people, who are involved in vocational education

and
2.1 companies, interested in hosting people who are enthusiastic about their job.
Our focus is on small and mid sized companies!
Get in contact and let us know what we can do for you!
mail(at)appine.eu
Here you can get info about our projects and who we are.